Get TIFF ready with me + my celebrity experience at the Tastemakers Lounge
Whoo! TIFF 2016 is upon us and this year I've been able to participate in some amazing activities to celebrate the incredible festival in downtown Toronto. Until this year, I really had no idea how much preparation and effort takes place behind-the-scenes. This week I had the absolute pleasure of participating in the Rock-It Promotions Tastemakers Lounge, presented by Krispy Kreme. Basically, it's a super glam gifting lounge that takes care of all of your A-lister needs and more!
When I arrived I was warmly greeted, and ushered into the lounge where I was met with some easily recognizable faces. First off, I was led to the hair station, where two stylists got to work right away to refresh my flattened curls. Side; the humidity is undoubtedly making their job much more difficult this week!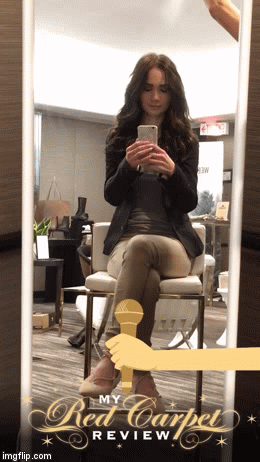 Hair by Salon Dew Yorkville
Next I had my brows done by NYX makeup artist and Youtuber, Marisa Roy. She talked me through how I could take my brows to the next level with Tweezerman accessories, showing me step by step how I could recreate the exotic look at home.
Tweezerman brow and makeup
I then moved over to the CND nail stop, where I got to see the new CND Creative Play line. I explained to the nail artist the look that I was going for for TIFF, showing her my dress colour and lipstick choice. We then decided to do a sexy red lacquer on my nails to complement my black gown (and the red carpet, of course).
CND professional buffing my nails
Before moving onto the gifting stops, I couldn't resist a quick massage with cosmetic chiropractor Dr. Liza Egbogah from The Fix. In just minutes I felt weeks of shoulder tension melting away!
Dr.Liza working her magic
Now that I was looking and feeling more glam than ever, I was ready to check out some products! My first stop was at the Sorel booth, where there was a gorgeous display of all of the chic new boots for fall. I love that Sorel has perfected the Canadian outwear game. Unlike most, these boots were actually designed for the weather we have here in Canada. I chose a gorgeous waterproof wedge pair, perfect for the transition from fall to winter.
Photo by Hollywood Minute
Then I chose some really cute socks from McGregor Socks! I went for the blue and white pair. It was so neat learning all about the company too.
Photo by Hollywood Minute
There was another area set up with live drawing by a Love Like Red artist. Some of the beautiful Canadian-made stationary and paper goods were on display as well. These pieces feature beautiful Canadian art pieces for the contemporary eye.
Photo by Hollywood Minute
Before I headed off on my way I couldn't resist stopping for some amazing coffee and specialty donuts from Krispy Kreme. The one donut was designed specifically for TIFF. It featured a maple glaze and crisp theatre popcorn, yum!
Photo by Hollywood Minute
After an amazing A-lister experience it was time to head home and get ready for my first celebrity premiere.
Obsessing over my earrings...
Off I went, no amount of rain could stop me!